Your Mood Score is the average level of happiness across your team. It is calculated by attributing a score to all the moods employees have chosen at their weekly, bi-weekly, or monthly pulse survey. These moods are gathered from the first question of the survey, which is: 'How is your week/month going?'
All the scores are then aggregated, and the average across your team is your Mood Score!
The Mood Score is reset each time a new pulse survey goes live.
Your Mood Score can be found in two places on your dashboard: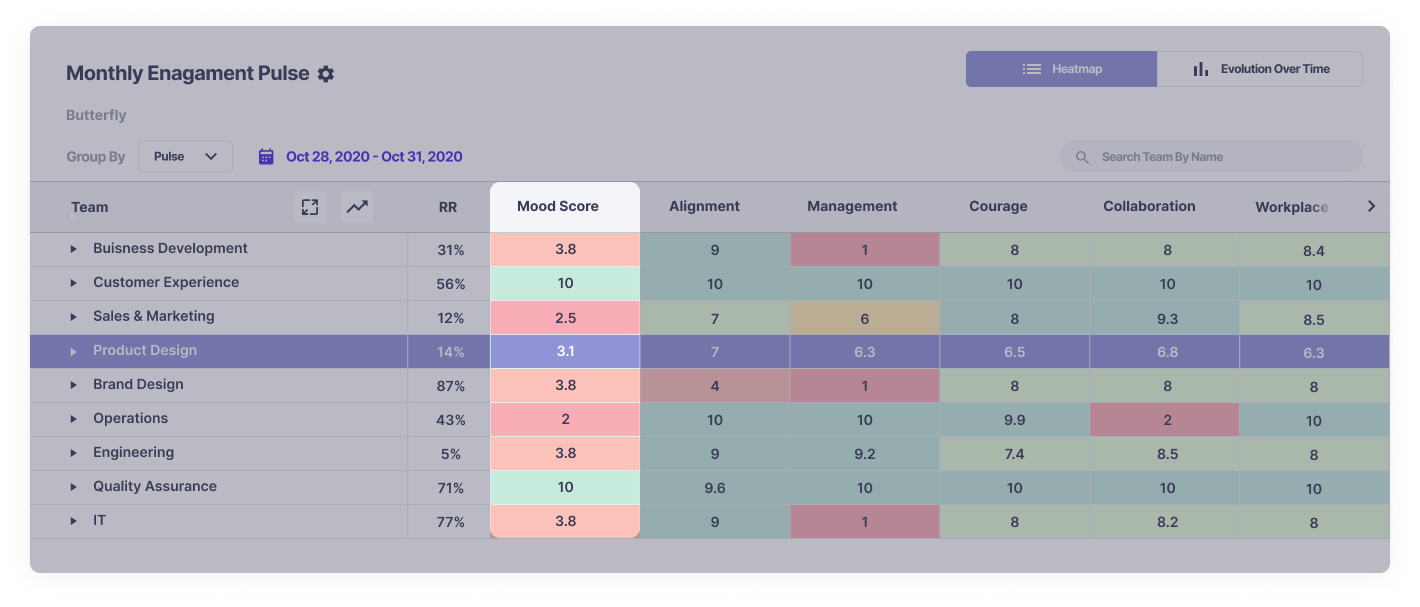 First, your Mood Scores appear at the top of your Dashboard in Evolution Over timeline and/or the Team Table, grouped by pulse.

Second, the Mood Score of the particular pulse you have selected will also appear on the bottom of your dashboard. Here you can also see the Mood Breakdown.
Are the Driver Scores and Mood Score related?
There are usually correlations between the two, but the scores are all taken from different places. In theory, you could have all the perfect scores for your drivers and then a very low Mood Score. This is mainly due to the fact that the Mood Score addresses a much broader topic than the driver scores. Mood Scores can be affected by work, personal life, or a variety of other factors. Driver scores on the other hand measure a very specific top such as Transparency,
What is a good score?
This is a very difficult question to answer because every country, industry, or person will have a different scale when answering these questions. A 5 for one person may have been meant as a positive response from one person and a negative response from another. That is why tracking changes over time and against your company averages are more important than any individual raw score.
A score of 5 that has been constantly increasing may be a better sign than a score of 7 that has been constantly decreasing.